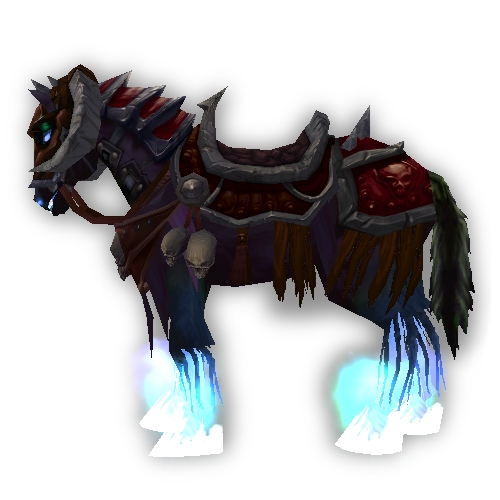 | | |
| --- | --- |
| | Crimson Deathcharger |
Your Collection:
Requires:
Level 20
Apprentice (75) Riding
Source:
Arthas the Lich King in Icecrown Citadel (Heroic)
Bind on Use:
This mount is not bound to a character until it is used. That means that you can buy, sell, trade, or give it away.
Account-Wide:
This mount is bound to your Battle.net account, not to a single character.
Notes:
Reward from Mograine's Reunion. When a raid kills the Lich King while a raid member is wielding Shadowmourne, a Sealed Chest will drop which starts several delivery quests.
Speed:
| | Apprentice (75) | Journeyman (150) | Expert (225) | Artisan (300) | Master (375) |
| --- | --- | --- | --- | --- | --- |
| Land Speed | +60% | +100% | +100% | +100% | +100% |
| Air Speed | N/A | N/A | N/A | N/A | N/A |
| Swim Speed | +0% | +0% | +0% | +0% | +0% |
Introduced in Patch 3.3
More info on Wowhead:
Other Mounts Using the Same Model: